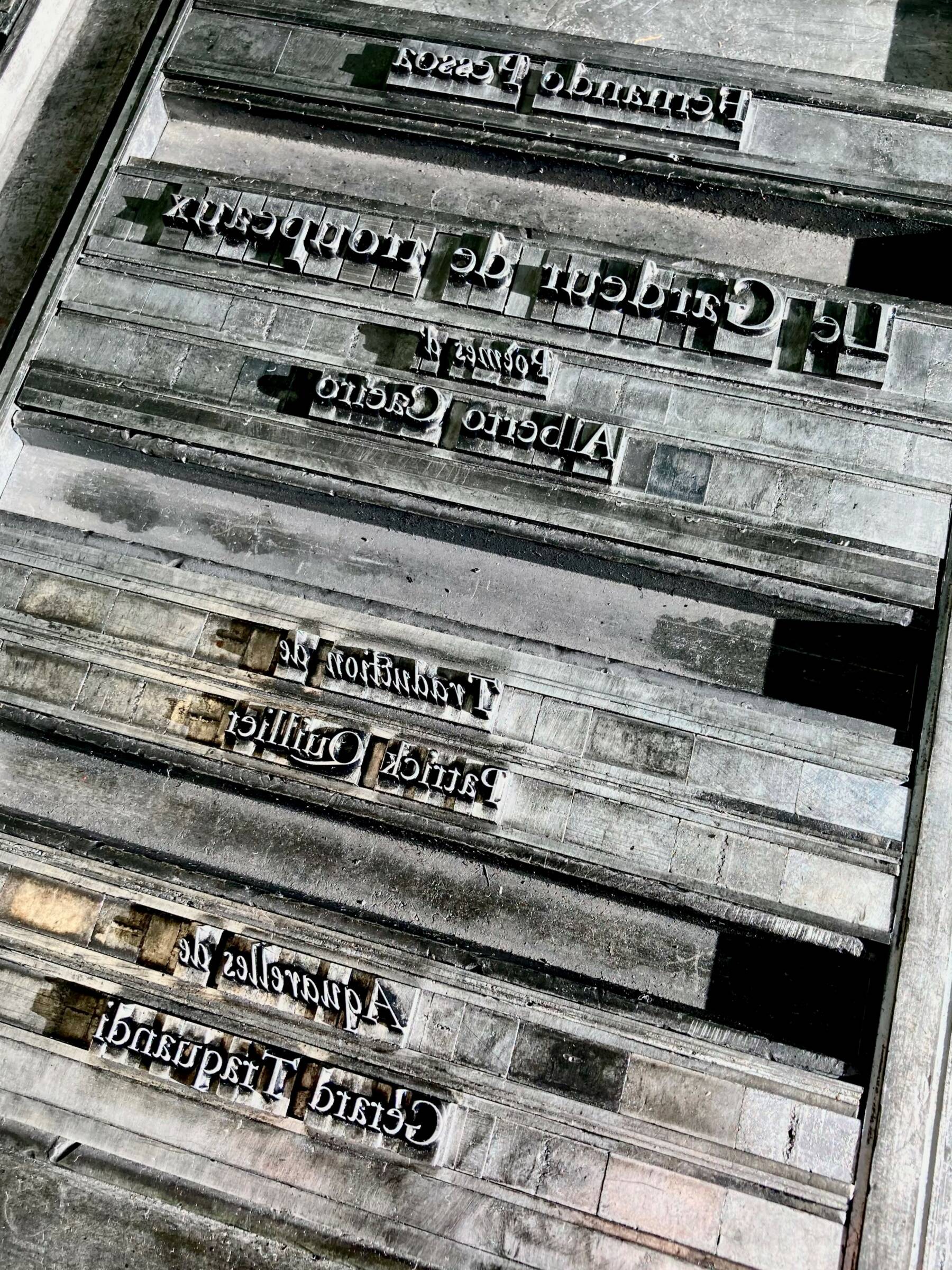 Atelier du Livre d'art et de l'Estampe de l'Imprimerie nationale
The Atelier du Livre d'art et de l'Estampe is rooted in the history of typography: in 1538, King François I designated the first royal printer for Greek, an appointment that is considered a founding act, from which the entire history of the printed word developed in France and constituted a collection of stamps that are unique the world and were classified a historic monument in 1946.
Braving the vicissitudes of history, the Royal Printers founded by Richelieu in 1640 became the Printers of the Republic during the French Revolution, then the Imperial Printing Office under Napoleon and, finally, the French National Printers.
The Atelier du Livre d'Art et de l'Estampe perpetuates rare skills spanning the entire spectrum of the typographic chain (design, engraving and fonts, composition and letterpress printing) as well as intaglio printing. The teams at the Atelier du Livre d'Art et de l'Estampe can respond to any request for project development, placing the atelier's know-how and the production tools at the disposal of publishers and artists.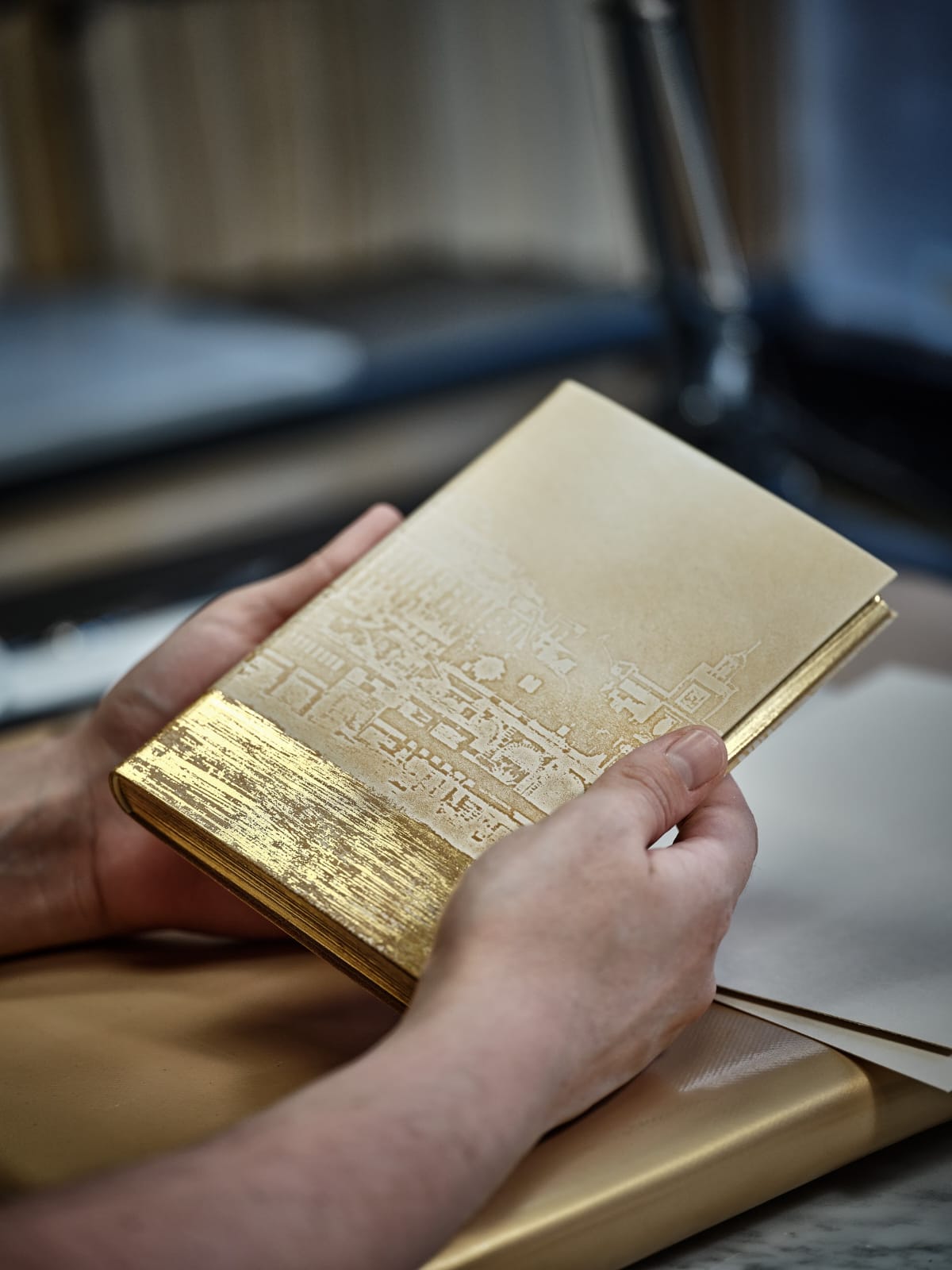 Louise Bescond
Louise Bescond was born in Les Lilas, outside Paris, in 1984 and has lived in Brussels since 2005.
After graduating in 2005 from the École Supérieure des Arts et Industries Graphiques Estienne graphic arts school, she entered the École Supérieure des Arts Visuels de La Cambre, in Belgium, where she earned a master's degree in bookbinding in 2008.
In 2013, Pierre Walusinski helped launch her career by organizing the first exhibition of her work at the Librairie Nicaise in Paris. Between 2015 and 2019, she took a four-week advanced training course with Renaud Vernier, a master bookbinder. In February 2017, with the support of Pierre Bergé and Anne Heilbronn, Philippe Luiggi and Michel Scognamillo exhibited 47 of her bindings at the Galerie Charpentier (Sotheby's Paris). In December 2021, Michel Scognamillo exhibited 38 of her latest bindings at the Librairie Métamorphoses in Paris.
Photo credits: Julie Limont
Related work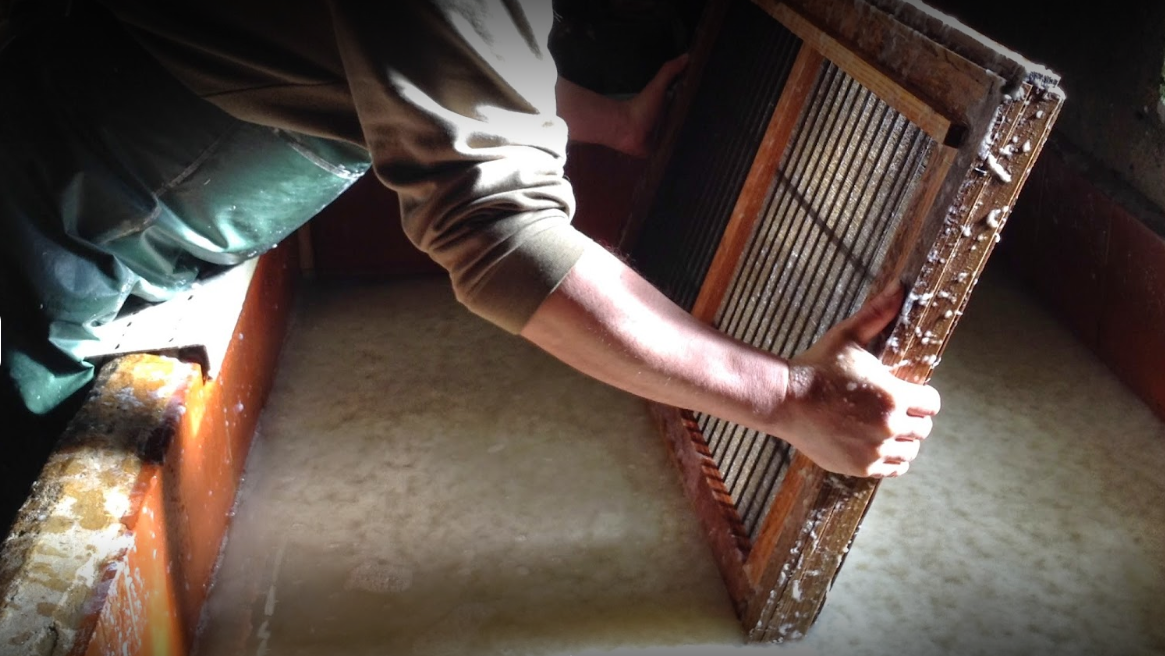 Jacques Bréjoux, Moulin du verger
Jacques Bréjoux has operated a papermill in the Charente region for the past 40 years. Comprised of a manor house and a vast drying room, the Moulin du Verger is a listed ensemble dating to the 17th century that attests to an age-old, regional tradition.
A pioneer, Jacques Bréjoux uses a fulling stock to transform old linen sheets. Like an experimental archaeologist, he proceeds in a constant back-and-forth between hypotheses and practice. A researcher at heart, he is fascinated by the mysteries of the earliest Chinese paper, Arab and Islamic paper, and the emergence of paper in the West.
Over the years, his process has led to considerable progress, for example grafts for filling in gaps in manuscripts. Institutions such as the Louvre, the Prado Museum and The Library of Congress in Washington D.C. regularly call on Bréjoux's expertise. The company also supplies papers made of various fibers for drawing, publishing, bookbinding and other graphic practices.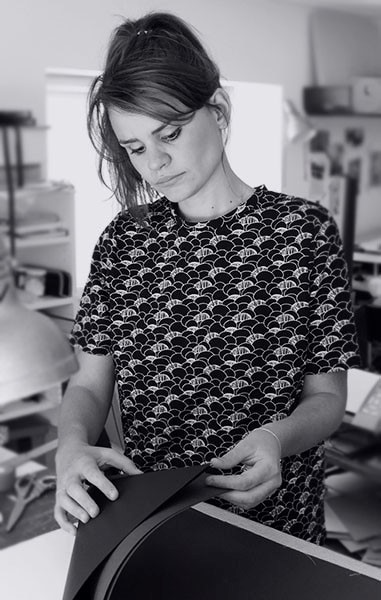 Célia Casal, atelier Casal
After studying visual communication and graphic design, Célia Casal studied the art of bookbinding at the École Estienne in Paris. She honed her expertise and technique by working with internationally renowned bookbinders.
In 2012, she opened a bookbinding workshop in the heart of the vineyards of Burgundy. Passionate about editorial design and a master in bookbinding techniques, she combines graphic design and the art of bookbinding to offer resolutely contemporary custom-made creations.
In 2013, the studio had the honor of receiving the Ateliers d'art de France award.
In 2016, its art stationery collection [Kumo Arashi], made in collaboration with the graphic designer and marbling artist Florian Aviet, was exhibited at the Museum of Decorative Arts (MAD) in Paris.
Julie Johnson, Verglass°
Verglass° is an atelier specializing in mouthy-blown glass. It was founded in 2007 by Julie Johnson and Eric Lemarié, two master glass artists.
Today, its name has become renowned thanks to the creativity and the standard of quality they demonstrate every day. Their expertise merges with state-of-the-art design, resulting in unique, upscale pieces created and manufactured in their workshop in Paimpol.
Ever on the lookout, Julie Johnson always keeps her notebook to hand: intuitions and sketches become precious allies in moving toward the realization of a piece. In each of her designs there's a sense of spontaneity, without which she couldn't create.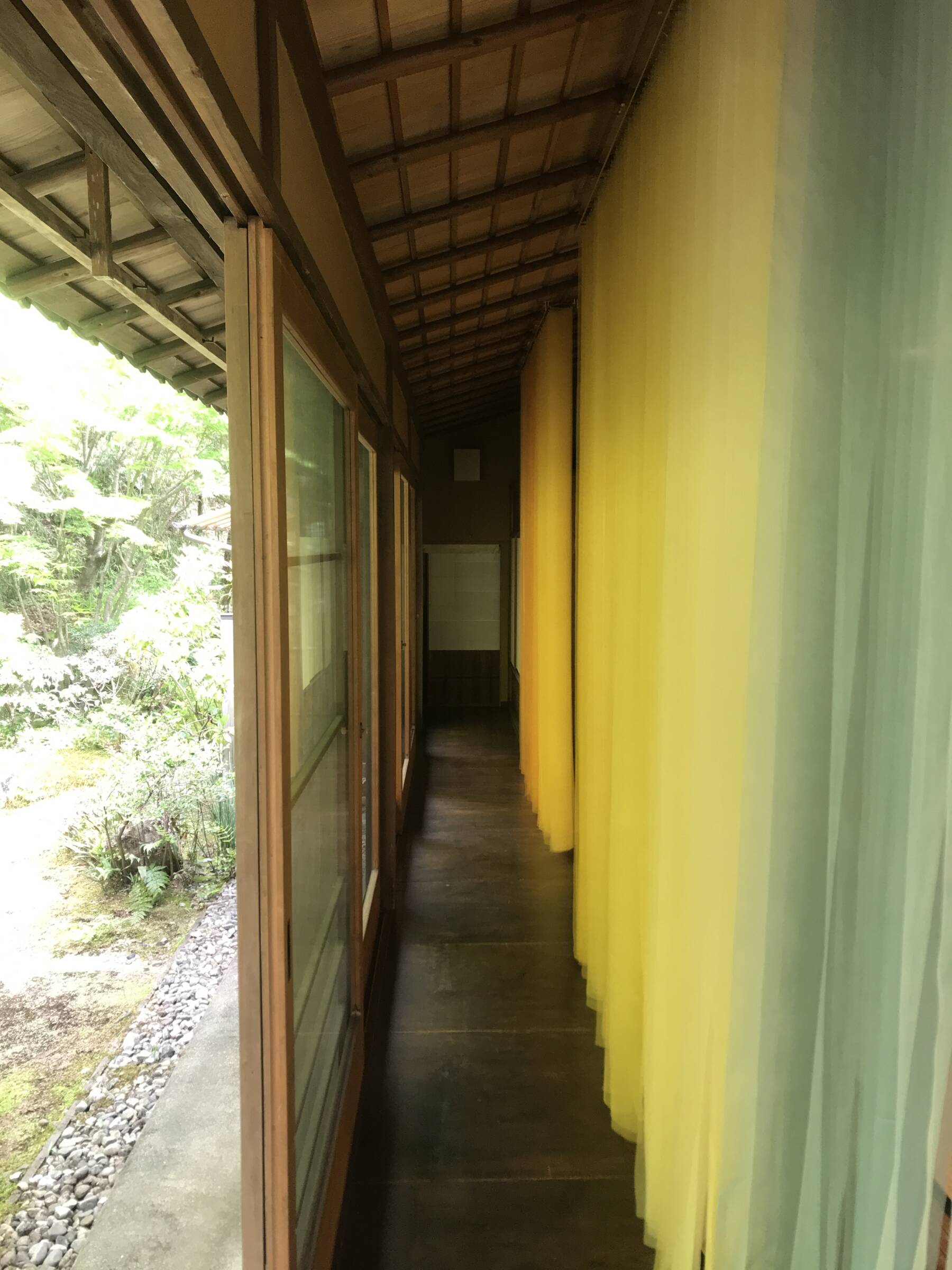 Yuko Kitta, Kitta
Japanese master artist Yuko Kitta creates pieces made of fabric, controlling the production process from start to finish for each piece.
Kitta's story took shape in 1998, when Yuko Kitta, began making clothes using natural dyeing techniques. In 2011, after working in Tokyo, Hyōgo Prefecture and Chiba, she established an atelier in Okinawa. Today, Kitta is engaged in the production of installations and clothes whose central tenet is based on the idea of guiding objects from their inception to their return to the earth.
Using identifiable materials as much as possible, Kitta dyes fabric using mainly Ryukyu indigo (Acanthaceae) that she grows herself, as well as the leaves, branches, bark and roots of various plants native to Okinawa.
Photo credit: Kitta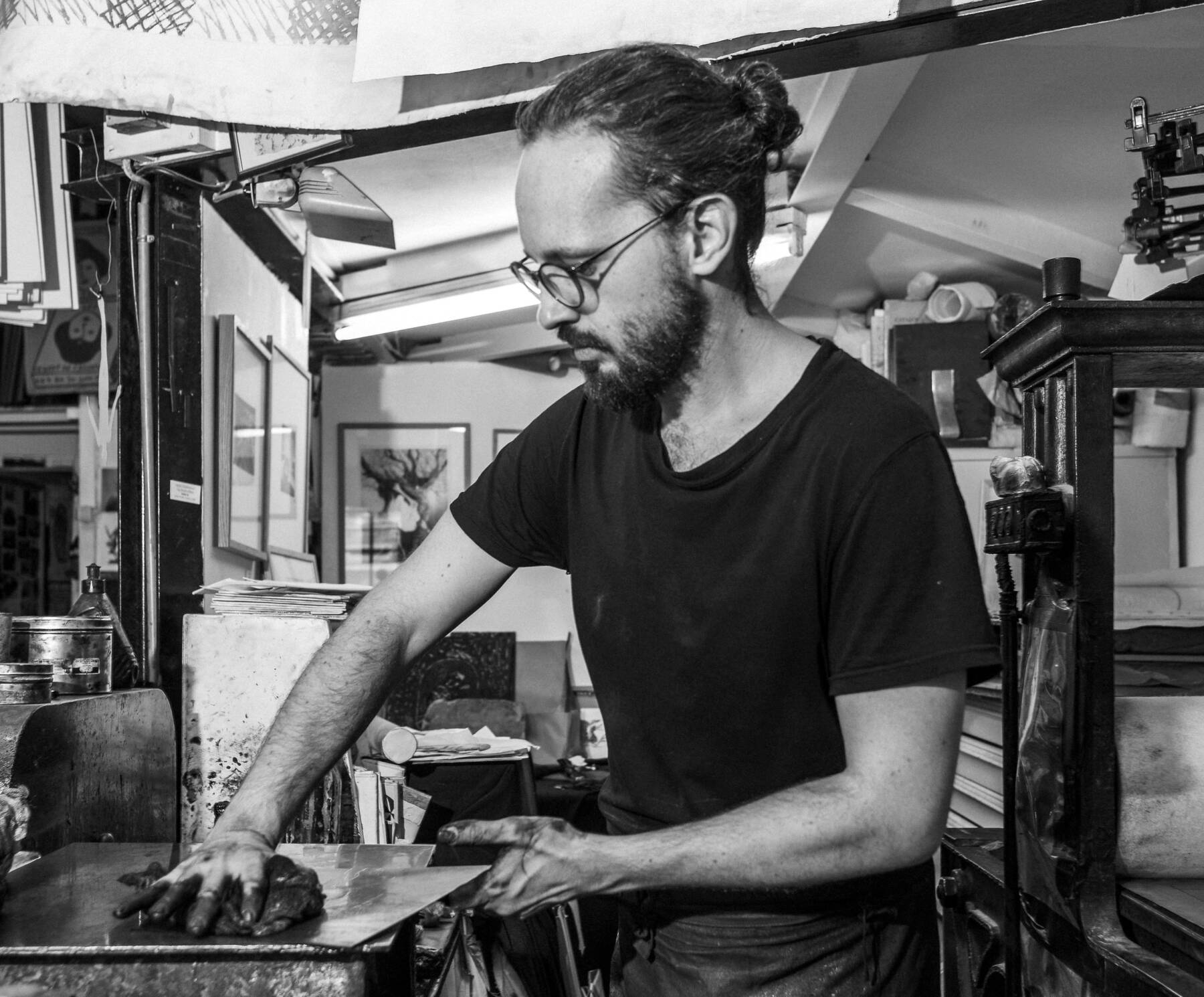 Matthieu Perramant, ateliers Moret
A graduate of École Estienne, printmaker Matthieu Perrament has been working in the industry for more than ten years. Trained in intaglio printing at Ateliers Moret in Paris and at Alain Piroir's workshop in Montreal, he also learned silkscreen printing from Éric Seydoux. Those years apprenticing as a student to a master artisan allowed him to discover the world of art publishing and to become familiar with artists, gallery owners and publishers.
Today, along with Didier Manonvillier, he is a co-owner of the Ateliers Moret, a printer founded in 1947 by André Moret that has trained a number of master artisans in intaglio printing. At the same time, with Le Moulin des Tournelles he has established a name as an illustrator of children's books.
David Voisin, V&P Agencement
As a 1995 graduate of the École Boulle with the school's Oscar for the best contemporary creation, David Voisin earned the distinction of Artisan d'art in 2009. Today, his massive bas-reliefs help to reinvent elegant interior décors; he also designs, develops made-to-measure fittings and creates high-end wood finishings for V&P Agencement, a firm he co-founded in 2006.
After helping to create an association for artisans in high-end decor and furnishing, he acted as president of that group until 2015, the same year he inaugurated the first edition of the show "Le luxe à la française" at the Château de Maintenon.
No author.